AUTHENTIC TONGAN EXPERIENCE
Tonga is a little-known nation but the fact is that it has 170 islands, five island groups and hundreds of attractions and activities. So where do you begin to whittle down the things that you should do in Tonga? Well, a good place to start is with this list of must-dos in Tonga listing The Kindom's stand-out experiences. From here, you will be linked to more must-dos in the island group you're visiting, as well as more information on the top experiences in Tonga.
Come and enjoy the rich local Tongan cuisine. In Tonga food is how all food should be: harvested fresh, cooked fresh and enjoyed fresh. The staples of Tongan foods are pork, chicken, beef, sheep ribs and of course fish to name a few popular meats. Add in some coconut milk, taro leaves and various starches such as yams, taro, sweet potatoes and tapioca and you can taste the true Tongan cuisine. Traditional food is cooked in an underground oven called umu, unless of course it is the most popular spit-roasted succulent pig. The Kingdom of Tonga offers a range of options to suit all taste buds and budgets.
Restaurants have table service, and are found mainly in hotels. Apart from hotel dining rooms, there are restaurants featuring Tongan, French, German, Italian, Japanese and Taiwanese cuisine.
Specialties include:
 Ufi (a large white yam).
Lu pulu (meat and onions, marinated in coconut milk, baked in taro leaves in an underground oven).
 Feke (grilled octopus or squid in coconut sauce).
Devilled clams, ota (raw fish marinated in lemon juice) and lobster.
Feasts play a major role in the Tongan lifestyle. Up to 30 different dishes may be served on a pola (a long tray of plaited coconut fronds), and will typically include suckling pig, crayfish, chicken, octopus, pork and vegetables steamed in an umu (underground oven), with a variety of tropical fruits.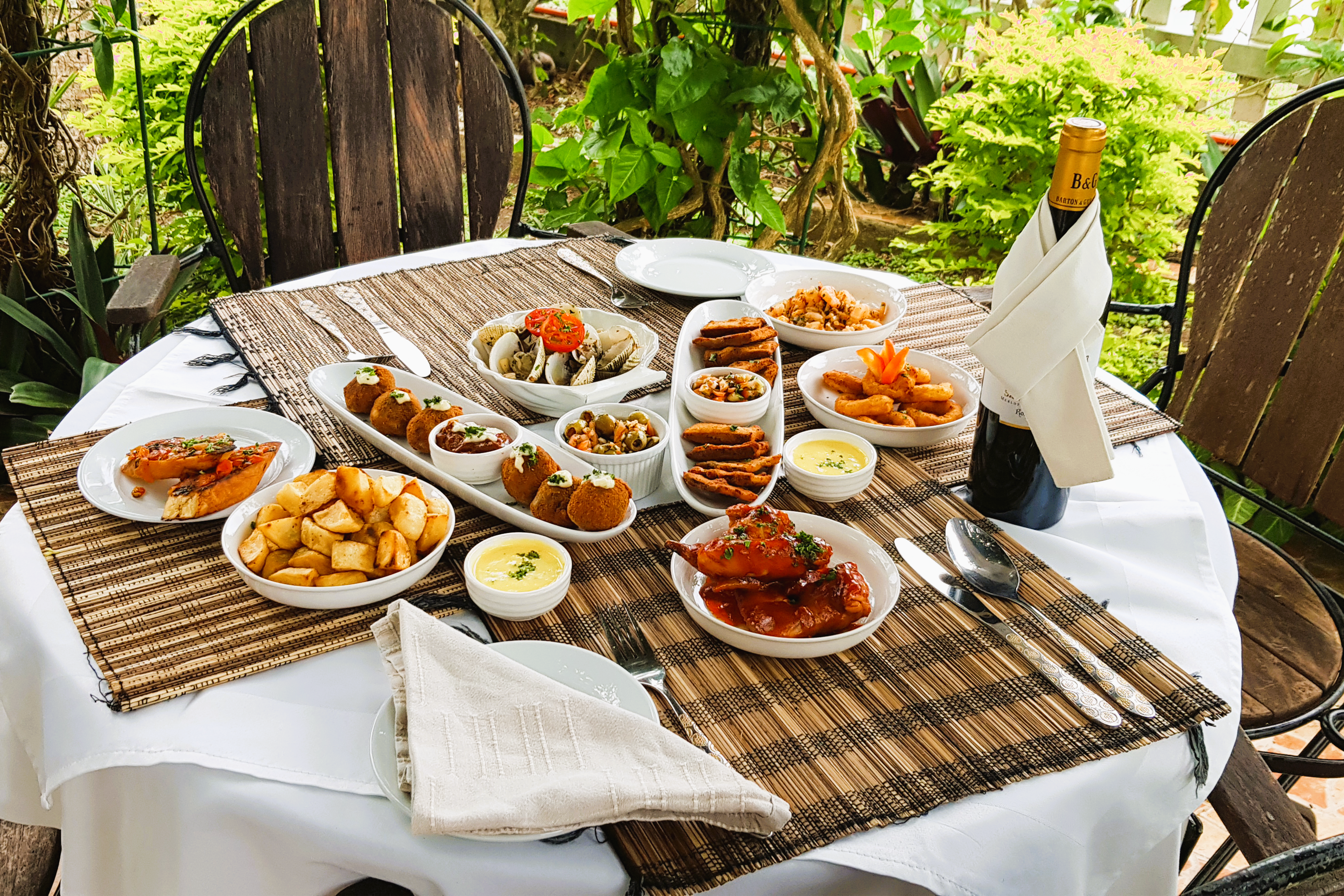 Some of the traditional Tongan dishes are lobster and fish, octopus, steamed pork, suckling pig, and tropical fruits.  Some of the most well liked and mouth watering dishes are devilled clams, feke consisting of squid or grilled octopus in coconut sauce, lobster, meat and onions marinated in coconut milk and baked in taro leaves, 'ota or raw fish marinated in lemon juice, 'ufi or large white yam, taro, tropical fruits and all types of salads. Tongans love feasts. A pola is a long tray made of coconut fronds plaited together. During feasts, a pola is used to serve up to 30 types of dishes. A typical feast includes chicken, crayfish, octopus, pork and vegetables steamed in an umu, suckling pig, and several varieties of tropical fruits.
Fresh, Tongan fare.  Enjoy the traditional tastes of Tonga and sample foods from the sea.  A lot of seafood can also be eaten raw with sea water for salty flavour.  Try some of the local delicacies: Sea snail (Elili), Fish (Ika), Lobsters (U'o), Octopus (Feke), Mussels (Kuku), Mama (Hulihuli), Sea-weed (Limu), Sea-urchin (Tukumisi).
Cafeteria, lunch counter, luncheonette, lunchroom, snack bar, greasy spoon, hash house, chophouse, steak house, pizzeria, coffeehouse, coffee shop, estaminet, teahouse, tearoom, tea shop… call it what you will, enjoy a light meal at a Tongan cafe.  The perfect place for lunch on the go, meeting friends or enjoying a leisurely bite to eat.